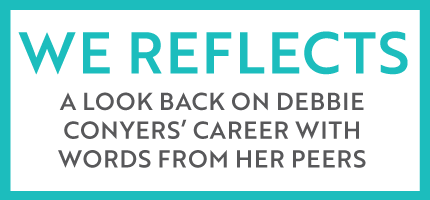 "I met Debbie Conyers through ECIA, and reached out to her with my desire to become more involved.  She welcomed me with open arms, brought me in to marketing meetings, and helped align me on the ECIA Conference Committee.  When Women in Electronics began, I immediately thought of Debbie! She has been a wonderful advocate for the Electronics Industry, especially for women, and the perfect recipient for the 2021 WE Recognizes Award. Congratulations on your accomplishments and retirement, Debbie! It is an honor to now pass this award to you!"
- Holly Good, Cornell Dubilier
"I was a novice when I entered the industry and coming from the 'outside' was intimidating at times. In Debbie I found a woman of value, strength and support. While I may not have realized it at the time, Debbie was a mentor showing many of us younger women how to navigate unchartered waters. Her kind, yet firm approach was a style to appreciate and learn from." 
 - Maryellen Stack, Sager Electronics
"My history with Debbie goes back more years than I care to admit, but throughout every one of them, every single interaction with Debbie has been warm, honest, thoughtful and generally positive!  I say that because Debbie and I went through a few trying years at NEDA when "the boys" just weren't behaving in the way we wanted  and although we were irritated, we never lost our commitment, our enthusiasm or our dedication to "doing the right thing."  That's a significant attribute that I wish more people had, but Debbie's loyalty and commitment to all she does is always centered around doing the right thing."
 - Diane Sweeney, TE Connectivity
"Debbie was always our industry maestro behind the scenes - making sure everything ran smoothly from the executive conference, to ECIA board meetings to EDS.  In addition to that, I could always count on Debbie for the latest "skinny" in the industry.  Most of all, she is a good friend who will be missed."
- Carla Mahrt, JJM Search
"To know Debbie is to love her. She is hard working, creative and passionate about our industry. Debbie has done so much for ECIA and for our industry throughout the years. I am thankful for crossing paths with her and for our time together at ECIA."
 - Stephanie Tierney, ECIA
"I've thoroughly enjoyed working with Debbie over almost 21 years now. It's been great having her to share things with both work and personal. I will miss her lots!"
- Donna Valore, ECIA
"Working with Debbie Conyers over these many years has been such an honor!  I have learned so much from her, and love her enthusiasm for our industry.  I've had the joy of working with her at the ECIA on a local level, and also with her on the Executive Conference for the ECIA, as well as with Women in Electronics.  She is dedicated, loving, hardworking, fun, and brings a true and honest spirit to everything she does.  I've also loved partnering with her when she ran Project Host at EDS, which brought college students to EDS and partnered them with manufacturers, reps, and distributors so they could learn this industry and see what it's all about.  Thank you Debbie, for your tireless efforts and love for our industry, and for your friendship over these many years!  You will be terribly missed!"
- Tobi Cornell, Kruvand and Associates
"Debbie has been a fixture at ECIA, interacting with so many members over the years, always with a smile and always eager to help support our industry. It's hard to imagine ECIA without Debbie.  I enjoyed my time working with her and wish her all the best in her transition to full time Grandmother! 
- Bill Bradford, ECIA
"From the start of my tenure at ECIA, Debbie has been the welcoming, cheerful face and voice of the Association. She has always been willing to jump in and help on any request from our members. I am constantly amazed at how many people she knows in our industry. Her experience and positive attitude will be greatly missed."
- Victor Meijers, ECIA
"Debbie has been incredible. She has such a wealth of knowledge about people in our industry and she has the relationships to pick up the phone and call just about anyone. Most importantly, she is a wonderful, fun-loving and humble person that is a joy to work with. We will miss her very much, but we're happy that she will have more time to spend in her favorite role as a grandmother!"
- David Loftus, ECIA