February's Life Balance Series: Seven Ways to Start Your Year on the Right Fork
Tuesday, February 23, 2021
,
8:00 AM
-
9:00 AM PDT
Category: Life Balance Series
---
7 Ways to Start Your Year Like You Give a Fork with Mareya Ibrahim-Jones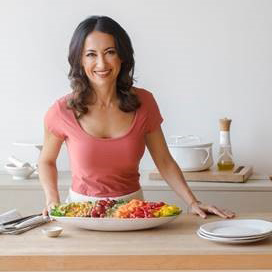 2020 will go down as the year of reckoning, at least I see it that way. And it's one that magnified so closely how important it is to really treasure our health. And with that, our lifestyle habits, because our mental well-being, our physical well-being, everything depends on it, no matter what life throws at us. Well, now it's time to dust ourselves off and start with a clean slate.

But here's a little tough love advice. If you really want to make shift happen, you need a plan, and that plan needs to focus on your clean plate. When you get your food habits in order, you can crush your goals and make your dreams come true – it's that important.

In this session we'll discuss the top 7 ways to start the year on the right fork, and how to turn those good habits into rituals that become part of your lifestyle. This is your year!
Time: Feb 23, 2021 08:00 AM Pacific Time (US and Canada)
---